The Hunt for the Starbucks Thief was a promotional game ran by Starbucks and Mars to release the new COFFEE M&M's candy. The two companies teamed up to provide an engaging game for players to discover who stole the Starbucks coffee beans and became the newest member of the M&M's family.
To begin the game, Starbucks released a short video designed to look like a news report via Youtube. The video announced that someone robbed the store on Georgia Tech's campus and asked for the public's help. Several posters went around colleges asking to help find the robber. The story spread further after new reports announced the robbery. Over 500,000 shares on social media sites occured by the end of the day.
At the time, Mars was not identified with the game, but worked alongside Starbucks.
After a week of waiting, Mars began a social media campaign to reveal their game. The M&M's PR team released the names of three suspects, all being a different coffee-related personality. The company invited more college students to participate by placing the new COFFEE M&M's (featuring unique clues) in select vending machines on each campus.
The game's website added a new page for players to guess the criminal and how they did it. They page also featured a vote for the new package design.
College campuses that featured the game's campaigns received parties if they participated. Georgia Tech's campus won the premiere event headlined by Bruno Mars. Mars launched the product at these events and were available for sale a week later.
Photos and videos are a great way to add visuals to your wiki. Find videos about your topic by exploring Wikia's Video Library.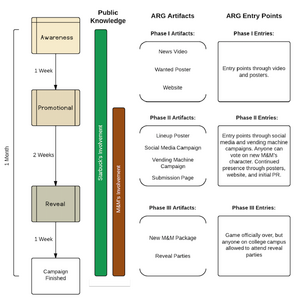 Community content is available under
CC-BY-SA
unless otherwise noted.